When you search this question: How to wear a lapel pin? You will get countless wearing method that will make your confused, In order to bring convenience to people, we, as a professional pin design maker, will conclude many wearing tips for lapel pins. Whether you want to try traditional ways or creative ways, you can find them in this comprehensive guiding post!
Traditionally, lapel pins are always positioned on the left lapel of one's suit. However, in this changeable era, even the ways of wearing lapel pins have undergone tremendous change. Let's have a look at these changes!
1.Wear Lapel Pin As A Necklace
You can Design Your Own Lapel Pin Online,therefore, you can design the one-of-the-kind lapel pin. The amazing thing is that you can make your customized lapel pin become your particular necklace through one rope.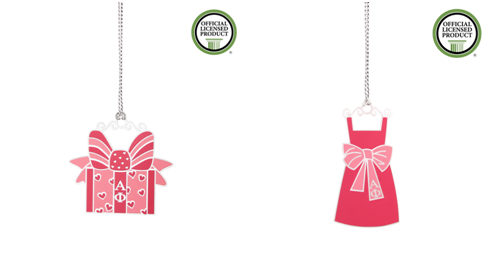 2.Wear Lapel Pin On Your Jacket
You must have a favorite jacket in your wardrobe, and you would like to wear it to many places. Sometimes, one single jacket may lack personality. Have you ever thought about adding something interesting to your jacket to update the style?
When you go to interesting occasions, you must want to show your own highlight. Custom lapel pins will be your best choice for two reasons.
One is that you can change the lapel pins on your jacket anytime depending on your mood, different occasion or even seasons. The other reason is that you are not only able to choose the style you like, but you also can make your Personalized Lapel Pins.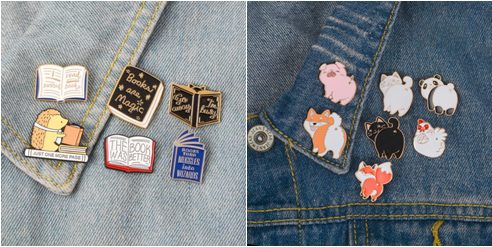 3.Wear Lapel Pins To Hold Sunglasses
In the summer, we all need sunglasses in order to avoid the blazing sun. When we take off our sunglasses, most people usually hold them along their collars. Have your clothes neckline become ruined by this habit before? If you say yes, we suggest that you can use the lapel pin as a sunglass holder. Here are some cutout pins that will be your best choices. You can wear them to hold your glasses on your jacket or pants as you wish, and also can Design Your Own Lapel Pin Online for getting your favorite style exactly the way you want it.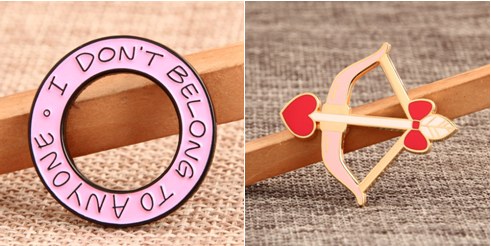 4.Wear Lapel Pin As Cufflink
Have you ever encountered this situation before? When you roll up your sleeves, it always gets loose, and you need to roll it up again and again, which can be very annoying. And it also affects the overall style if you do not roll it perfectly. In this case, you need a small item to play a role in keeping your sleeve in good condition. Firstly, you need to pick up a small size lapel pin on the side, and roll up your sleeves until you are satisfied, then finding a position to wear it for keeping sleeves style.
Here are some small size lapel pins you may want to take a look at. You can customize any style and shape with us, and you don't need to worry about quantities since our company support Lapel Pins No Minimum.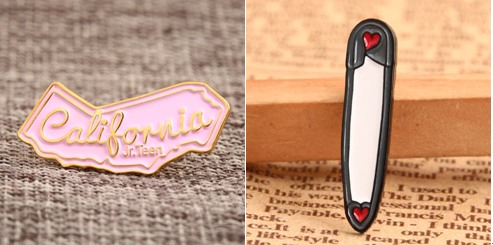 Where Can You Use Lapel Pins?
Knowing the placement methods of custom pins is not enough, it is also quite important to know where you can use the lapel pins or where it is not appropriate to use lapel pins.
No.1 wearing on a suit
When invited to a formal ball or dinner gathering, the dress code usually includes wearing a suit. In this case, add elegant yet not overly flashy lapel pins on the lapels of the tuxedo can immensely increase the overall sense of the outfit, making one easily spark among the crowd.
No.2. Entertainment
Custom lapel pins is a fun item that can be personalized out of the solo purpose of entertainment. You can wear it to meet friends, to work, etc. There are no restrictions for lapel pins in this case.
No.3 Business
The company usually use the lapel pins to award the employees with a great contribution, or as a symbol of membership, which is common usage in the United States. In business occasions, formal style lapel pins with a little bit fashion element is the most favorite.
Tips for matching pins:
The color of the lapel pins should be matched with your clothing. Keeping the overall harmony of your clothing style is the NO.1 principle. For example, you can create a valued image by using gold color on a business occasion or choosing the color which is same as your tie or suit for creating characteristic.

You need to choose the right design when you use it on some occasion. Some funny or overly fashion style do not suit any formal occasion.

Choosing the size of the lapel pin is very important; you need to choose the right size according to your body type.
Of course, this article does not include all usages and there are still so many wearing methods out there for you to discover. For example, you can use the customized lapel pins to decorate your purse or your favorite hat, or you can use offset lapel pins to print your photo as a name label.
Lapel pins have countless uses. The countless usages primarily come from various styles, you can Design Your Own Lapel Pin Online for any style you like, and there is even no MOQ requirement, so if you have some interest, please contact us for your free quote.