As an exquisite handicraft, Custom Enamel Pins is popular among people all around the world. It is always considered as the representative or symbol of someone or something in an era. In addition, custom enamel pins have become a fashionable collection, one of the essential items in the antiques and flea market.
We all know that there are many different kinds of enamel pins, such as hard enamel pins, soft enamel pins and offset printed pins. But how much do you know about their accessories?
As the saying goes, a good horse with a good saddle. Similarly, a beautiful custom pin without accessories cannot be of practical value. The Attachment you choose will determine how those custom pins are attached to your clothes or other things. Today, I will recommend you six main custom pins attachments widely used by our company.
1.Traditional Butterfly Clutch or Military Clutch for Custom Enamel Pins
Basic parts: prick needle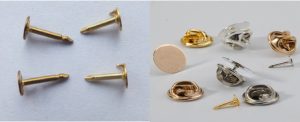 Military Clutch
A Prick needle is a necessary part of the butterfly clutch. Different custom lapel pins take prick needle according to their size and use. We will change the plating effect according to the design of enamel pins. The head of this accessory is sharp. What you need to do is just wear it on your clothes and cover with butterfly cap.
Butterfly clutch is the most common form of current enamel pins. They are often used in a variety of ordinary collections. Each butterfly clutch needs at least one prick needle. It is used to fix custom pins by clamping prick needle, and the plating effect can be changed according to the design. Compared to other attachments of pins, butterfly clutch holds less secure, especially when the surface of clothes is thick or when the accessory to it is too heavy (e.g. Military Clutch).

Butterfly-Clutch
Advantage:  Affordable and universal process
Shortcoming:Easy to damage, rub and take off the hat
How to use: After the custom lapel pin with prick needle passes through your clothes, open the two circlips of the butterfly clutch and put on needle button.
2.Convenient Rubber Cap For Enamel Pins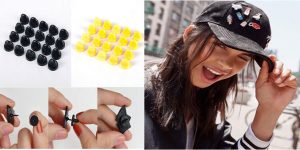 Rubber Cap
Rubber Cap is the same as the butterfly clutch, which is used for clamping small prick needle. There is only a hole, where the needle is inserted.Custom lapel pin is locked by friction.This attachment is made of environment-friendly plastic or rubber. It will not harm the skin when worn. The common rubber cap has two colors: black and yellow.
Advantage: Not easy to scratch and rub, in various forms
Shortcoming: Without a lock design, the enamel pins can be pulled directly from the outside
How to use: Same as butterfly clutch above
3.Stable Safety Pin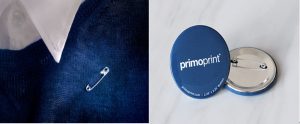 Safety Pin
Safety pins are mainly used for bigger enamel pins. The common safety pin is a long strip. It is fixed on the back of custom lapel pins by liquid soldering. And the plating effect can be changed according to the design. But this kind of attachments is rare in the market now.
Advantage: More stable than butterfly clutch and rubber cap
Shortcoming: Not very durable and corrosion-resistant, the needle is easy to hurt someone
How to use: prick two holes with your clothes at a time.
4.Delicate Stick Pin

Stick Pin
Stick pin (also known as a tie pin) is neckwear decorate, which originally used by wealthy English gentlemen. There is a straight pin with a jeweled or decorated head, which worn to hold a necktie. As an ornament on the lapel of a jacket, such a pin is also worn by white-collar female now.
Advantage: More exquisite, enhance temperament
Shortcoming: Easy to hurt one's finger
How to use: A direct stitch design is pinned to the garment
5.Stylish Magnet Backing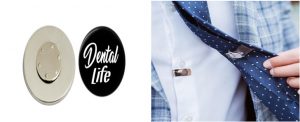 Magnet Backing
Magnets are attracted to three types of metals: nickel, iron, and cobalt. This kind of attachment includes two parts:  a bar with a round magnet on the custom enamel pins comes behind your clothes, and the pin with a round magnet goes its back, which clicks with the bar magnet.
Advantage: Excellent safety feature, Prevent damage without creating holes
Shortcoming: durability with a short time
How to use: Attract by the magnet
 6.Excellent Deluxe Clutch

Deluxe Clutch
Compared to five attachments mentioned above, Deluxe Clutch looks more advanced. This has a small spring inside, and the custom pins are locked by it. Spring is often used for a boutique deluxe clutch. If you want to wear deluxe clutch on a suit, prepare two enamel pin is a better choice.
Advantage: Excellent texture, high quality, not easy to take off
Shortcoming: A little bit expensive
How to use: locked by a push and pull spring
It is an important thing for consumers to choose a beautiful but cheap custom soft enamel pins. And we should not neglect the attachments at the same time. Good manufacturers have strict requirements for every detail of products. Our company has been in the manufacturing of promotional gifts merchandise for over 20 years. For us to provide the quality of strong quality assurance. If you prefer other non-display options, please contact us directly.