Do you like to drink coffee — cappuccino, latte, mocha and black coffee, which one is your favorite? Coffee is one of the world's three major beverages. It is a beverage made from roasted coffee beans. It is the main drink popular in the world with cocoa and tea. The daily coffee is made with coffee beans and various cooking utensils. The coffee beans are the nuts in the coffee tree fruit and then baked properly. Don't miss this article about custom enamel pins if you love coffee. I believe these elegant enamel pins related to coffee will give you a feeling of relaxation and pleasure.
Do you still want to know more about coffee? Please click on this website to view it. http://www.ncausa.org/about-coffee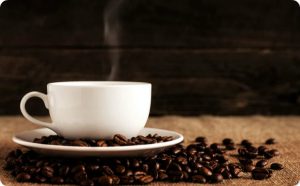 Although the coffee is bitter, it is still very popular among all ages. Just imagine, the sun shines into the glass window on a winter afternoon. Is it pleasant to have a hot cup of coffee at this time?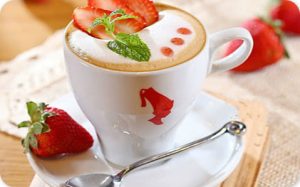 Do You Know the Benefits of Drinking Coffee?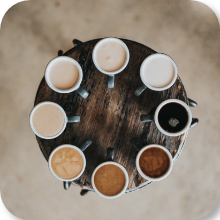 Refreshing Function
Coffee is very popular among office workers. If you work tired and have a drink, you can greatly relieve fatigue and improve your work quality.
Because there is a substance in the coffee, "caffeine", it can stimulate our brain and nerves, so that the brain is always in a state of excitement.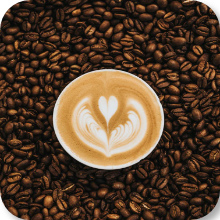 Improve Your Skin Condition
Coffee has an antioxidant effect, which can help the skin's metabolism, eliminate dead skin cells and delay skin aging.
After removing the keratin, you will find that your skin tone will be whiter.
And after scientific experiments, coffee is also sunscreen and radiation-proof. So many women who use computers regularly choose to drink a cup of coffee every day.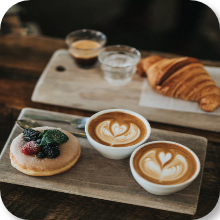 Promote Gastrointestinal Digestion
Drinking a cup of coffee in the morning can refresh your mind and promote digestion in the stomach and prevent constipation in the morning.
But it is best not to drink coffee on an empty stomach. It is a good choice to pair coffee or sandwiches or cakes.
Many people love coffee to the point of fanaticism. How would you express your love for coffee? Some people buy coffee, some people like to collect pretty coffee cups and some people may collect coffee enamel pins issued by the coffee shop as souvenirs. Now let's have a look at the following interesting enamel pin types.
No 1: Coffee and Dessert Custom Pins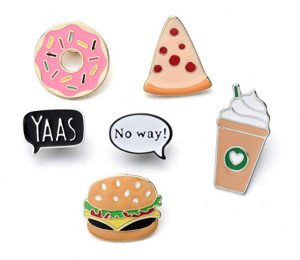 Coffee, donuts, pizza, and hamburgers! Do you feel a little hungry when you see these delicious food custom pins?
Sweets are something that most people can't resist, and it's perfect to have a cup of bitter coffee after eating dessert.
As you can see this cup of coffee is full of cream on it. Its taste must be very nice. These hard enamel pins are so cute, aren't they?
No 2: My Space Coffee Enamel Lapel Pin
The fascinating custom pin has two meanings. The first point just as the pin shows, I need my space—I want to have my own quiet and lonely space.
Away from the troubles and sorrows, it is a wonderful time to taste a cup of fragrant coffee quietly.
What's more, the decoration of the cosmic pattern in the coffee dish and coffee is very mysterious and spatial.
A cup of coffee can also create many astronomical associations for us. Who wouldn't like such cool enamel pins?
No 3: Coffee and Book Enamel Pin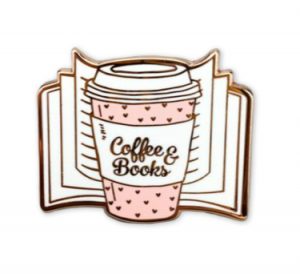 This custom pin is processed with hard enamel & gold finish. Many bookstores offer coffee sales services now. Read a favorite book, have a cup of yummy coffee, you can even stay in the coffee bookstore for a whole day.
Actually, custom enamel pins can be used as an advertising tool in addition to being fixed on clothes and backpacks. For example, a bookstore with a prosperous business can order such custom enamel pins for its customers.
Of course, the best lapel pins can also be used as a special gift for your outstanding clerks. You can engrave the name of the store or employee on the pin, making it a unique gift. Make your own enamel pins is memorable.
No 4: Purple Cup Coffee Enamel Lapel Pin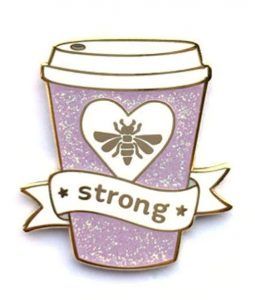 As you can see from the picture, the most attractive part of this enamel pin is the beautiful purple powder added in large size in addition to the realistic coffee cup shape.
This Purple Cup Coffee Enamel Lapel Pin will glisten in the sun. Fashion pins like this are perfect for young women to wear.
No 5: Emoticon Coffee Enamel Pins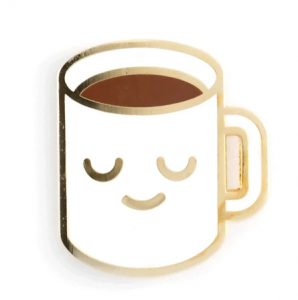 Is this expression pin with cut-out craft super cute? Wearing a pin is also a great way to convey your mood.
If you are in a good mood today, you can add a smiley coffee pin to your suit collar. But if you are a bit depressed, you can fix a sad badge on your backpack.
No 6: Coffeepot Custom Enamel Pin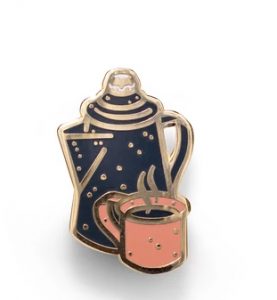 For most people, coffee is the beverage of choice for afternoon tea. Whether it's a family gathering or a company's afternoon tea, the constant supply of coffee timely is a pleasure.
What you need is an insulated coffeepot! In this way, everyone can enjoy delicious coffee quickly and easily! The Coffeepot Custom Enamel Pin is so cute and practical, isn't it?
---
Coffee enamel pins are hard to resist because they are exquisite, easy to use and they can be used as gifts & promotion tools.
As a professional enamel pin maker, we have also produced many high-quality & high sales coffee enamel pins keep abreast of the times. No matter it is a hard enamel pin, a soft enamel pin or a 3D pin, as long as it is the style you want, we will do our best to serve you and provide you with the best enamel pins.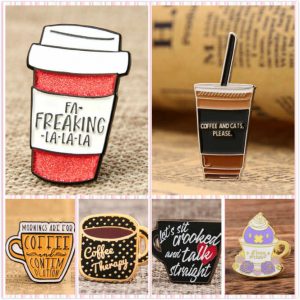 Resources:
https://www.amazon.com/dp/B07VDJPGN6/ref=pd_sbs_197_2/142-3548355-1084669?_encoding=UTF8&pd_rd_i=B07VDJPGN6&pd_rd_r=26fe37b2-1ff7-4fab-bdb3-c52021089633&pd_rd_w=xJy7M&pd_rd_wg=UwlDW&pf_rd_p=52b7592c-2dc9-4ac6-84d4-4bda6360045e&pf_rd_r=8PSR5QCM6TD3E7CH1E1Q&refRID=8PSR5QCM6TD3E7CH1E1Q
https://image.hifactory.com/20190524/5ce762896605f.jpg
https://cdn.shopify.com/s/files/1/0067/1212/products/these-are-things-coffee-mug-enamel-pin_large.png?v=1480550889
https://cdn.shopify.com/s/files/1/0137/3198/7542/products/bulk_lapel_pin_1_700x700.jpg?v=1555767217
https://i.pinimg.com/originals/4c/f5/04/4cf504ae9fc584147c5fb06e9edbe082.jpg
https://i.etsystatic.com/17440187/r/il/d90f5c/1541260810/il_570xN.1541260810_tdja.jpg
https://cdn.shopify.com/s/files/1/1792/2535/products/Camping_Coffee_600x.jpg?v=1537934134
https://unsplash.com/photos/tNALoIZhqVM
https://unsplash.com/photos/XOhI_kW_TaM
https://unsplash.com/photos/6ZWhi3YhDY8