Christmas is a public holiday in the western world and many other places. It developed from the original religious festivals to a global holiday now. The meaning of Christmas is increasingly blending with cultural traditions around the world. And some have evolved from religious cultures into more colorful Christmas activities. Here comes Christmas again! Have you figured out what gifts to give your family and friends? Christmas custom enamel pins will be a wise choice for you.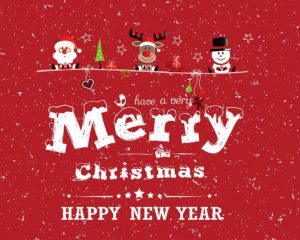 Christmas is full of magical holiday fairy tales which makes many people yearn for it. Joyful and romantic scenes are everywhere. Each house is decorated with a starry Christmas tree, representing many wonderful dreams. Santa Claus, Raindeer, Christmas tree/hats/sockings and snowman are all essential elements of Christmas. The various soft enamel pins associated with them are also very popular. Are the following custom metal pins perfect for Christmas?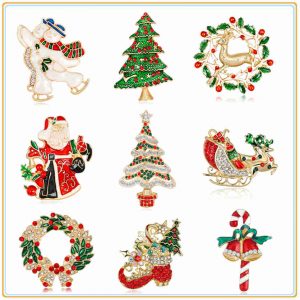 Santa Claus Custom Enamel Pins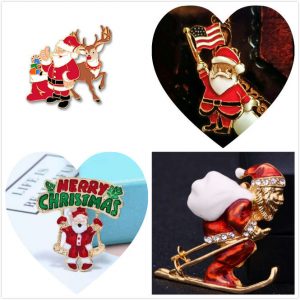 Kindness and cuteness have always been the impression of Santa Claus. From the picture of custom enamel pins, you can see different kinds of Santa Claus.
He celebrated Christmas with his cute Reindeer and is even caught playing on a swing and skiing happily like a child. Presumably, people will love this kind of affordable enamel pins.
Christmas Hat Custom Lapel Pin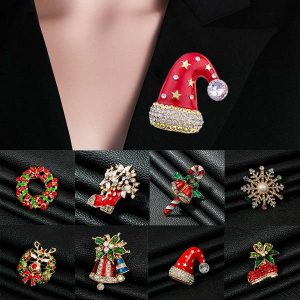 Wow, the Diamond-studded Christmas Hat Custom Lapel Pins is so gorgeous!
There are three rows of sparkling small diamonds on the edge of the Christmas hat. The red hat is dotted with stars. The most dazzling is the largest diamond at the end of the hat.
This kind of soft enamel pins is perfect for women, wearing it on your collar will not only add to the holiday atmosphere but also makes your clothes look more beautiful.
Of course, you can pick more custom pins with Christmas themes to fix on your hat, shoulder bag and other items.
Christmas Tree Custom Pins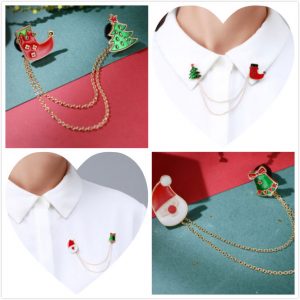 This chic, versatile Christmas Tree Custom Pins have an excellent appearance.
A gold chain was set between the two enamel lapel pins. Just open the metal clutches on the back of the custom pins and then fix them on your clothes easily.
Wearing such a unique design pin makes a simple white shirt even more attractive.
Christmas Snowman Enamel Pins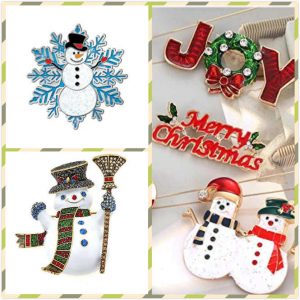 Making a snowman is a fun activity to enjoy on a snowy days. Do you expect to build a big snowman when Christmas comes this year? Take a photo with your own snowman and send a photo to social platforms to share your happiness with friends! Ordering a custom snowman pin for family, friends, or colleagues will definitely surprise them!
There are various enamel pin types. The first one, Snowflake Pin was produced with hard enamel and polished with silver finish. The most subtle thing is that the surface of the snowman pin is covered with shiny glitter powder. And as for the 2nd one, the classic image of a snowman is wearing a hat & scarf, and there is a broom in his hand. All of them are decorated with colored diamonds. The last one is a Snowman Couple Pin Set. They nestled together, looking so warm and happy. The elegant Joy & Merry Christmas Hard Enamel Pins matched the snowman pins very well.
---
If you want to know more about Christmas custom enamel pins, welcome to visit Enamelpins.com.
We have more than 20 years of experience in making all kinds of enamel pins, including below high-quality pins for Christmas.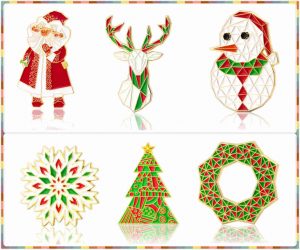 Christmas is the grandest holiday we look forward to each year. Various Christmas pins represent our joy and excitement. Why not celebrate this Christmas holiday with those cute custom enamel pins together? In the end, warm greetings and best wishes for Christmas and the New Year!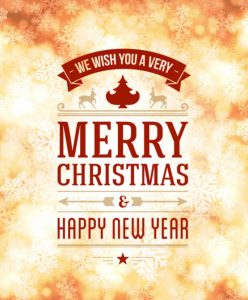 Resources:
https://contestimg.wish.com/api/webimage/5b91db8ef5881578a005de44-0-feed?cache_buster=5dadacb05c5f7f7338f874820038cac0&cozy=1
https://sc01.alicdn.com/kf/HTB1N7HQQXXXXXccXVXXq6xXFXXXX/227444649/HTB1N7HQQXXXXXccXVXXq6xXFXXXX.jpg
https://encrypted-tbn0.gstatic.com/images?q=tbn:ANd9GcTGp_BMTMalMXj9q_99DhYhSRsILQJDi-Oz2PO9ujiu7gtdHab9&s
https://image.dhgate.com/0x0s/f2-albu-g8-M01-84-A4-rBVaVFwGFk2AT2EEAADn8Szne78727.jpg/merry-christmas-brooch-pins-for-men-women.jpg
https://encrypted-tbn0.gstatic.com/images?q=tbn:ANd9GcS3UhuOLUVwtK-JEUiEs9aMMtmdYdsC04Ox2gZaYMB5l341KP4a&s
https://builder.crownawards.com/StoreFront/ImageCompositionServlet?files=jsp/images/products/PNHOSN.gif,,&width=378&trim=true
https://i01.hsncdn.com/is/image/HomeShoppingNetwork/prodfull/heidi-daus-blizzard-oflurry-enamel-and-crystal-pin-d-20171106135756787~582731.jpg