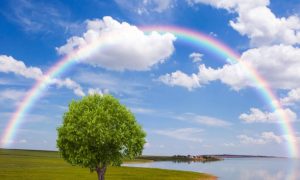 The rainbow is a wonderful and beautiful optical phenomenon. The rainbow has seven colors (red, orange, yellow, green, blue, indigo and purple). The rainbow is most often seen in the afternoon when the weather turns to fine after the rain. The rainbow is pretty, poetic and artistic. However, the rainbow is visible but not touchable. How to get a beautiful rainbow? People who love rainbows use related beautiful colors to make a birthday cake, ice cream, hot air balloon, house design, and even for flowers. So, are there any Rainbow related items that are portable and inexpensive? Bingo, the rainbow theme custom pins are an extremely good idea!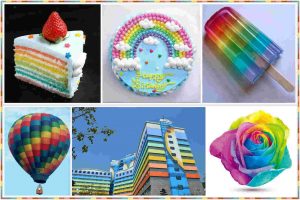 When the rain stopped, the appearance of the sun & rainbow means the end of pain and suffering. It also indicates the arrival of success and happiness. That's why we love rainbows so much. Good weather and cute custom enamel pins will always make you feel enjoyable.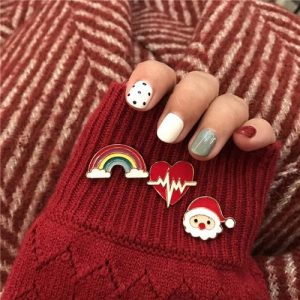 There are various kinds of custom pins base on the rainbow theme. Excellent raw materials, exquisite decorations and attractive design will make the Rainbow pins look unique. There are several charming rainbow pins in the text below. Which one do you like?
---
1. Rainbow Custom Pins Covered by Various Ornamental
Rainbow Pins with Diamonds
Almost everyone loves Diamonds. Does this diamond rainbow pin made up of six different colored diamonds grab your heart? This diamond rainbow pin is not only beautiful but also very practical. As shown in the picture, you can attach such soft enamel pins to the brim of a hat or on the clothes.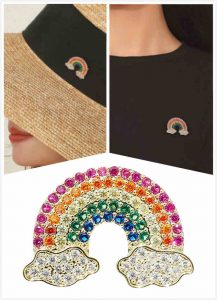 Most girls always like shiny objects. Look at these beautiful rainbow pins covered with rainbow-colored glitter powder. They are so particularly attractive , aren't they? You can decorate your backpack with such beautiful pins now! You can also share and trade such rainbow pins with your friends.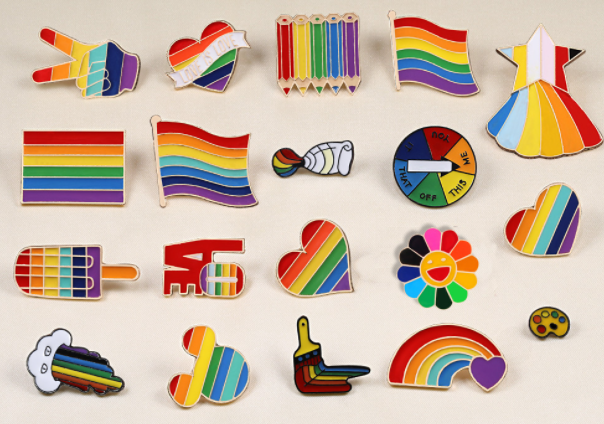 Rainbow Pins 
It is impossible for the stars at night and the shining Rainbow to appear in the sky at the same time. But custom pins can do such a fantastic scene! The most attractive point of this rainbow pin is the use of colored plastic beads to cover the surface of the pin, making the pin look unique and beautiful. You see, the simple denim jacket looks more attractive because of the embellishment of the best enamel pins.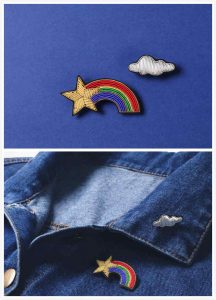 ---
2. Ingenious Custom Pins Ideas Come From Rainbow
Rainbow and Fruit Custom Pins
Do you like to eat fruit? Is it a favorite to blend fruit elements in rainbow pins? You can buy a rainbow pin of your favorite fruit style. When going on an outing or a date with your friend, your companion will know what fruit you like to eat when looking at your pin on your clothes. The design of these custom pins is really ingenious!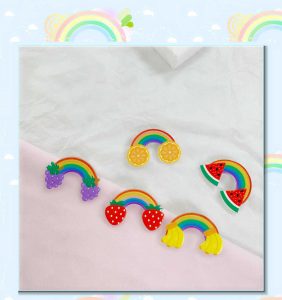 Love Custom Enamel Pins
The symbolic meaning of the rainbow is extensive. And the creativity of the rainbow theme pin far exceeds people's imagination. Look at these heart-shaped soft enamel pins in different color scheme, are they impressive?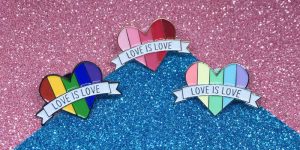 Skeleton Hard Enamel Pins
The pins of the skeleton series are very attractive. Unlike the skeletons you usually see, the rainbow color scheme makes these skeletons look less scary but more lively. Such cool enamel pins are suitable for young people. It is also a good choice for medical students to wear such hard enamel pins.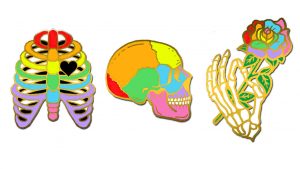 Rainbow Painting Soft Enamel Pins
This series of pins are perfect for art lovers! The color palette, color pencils, paintbrushes, do these pins look nice? If your friend or family member is studying art, you can customize this kind of affordable enamel pins for him or her! Recipients will love these imaginative rainbow-themed pins.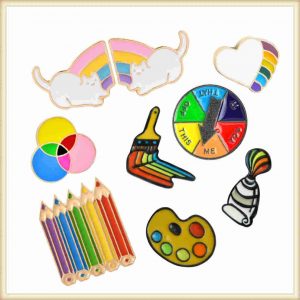 Rainbow Custom Enamel Pins in Different Shapes
An exquisite rainbow pin is not limited to the shape of a rainbow. There are many enamel pin types, such as heart shape soft enamel pins, flag shape hard enamel pins, square 3D pins and so on. The style of the pins is ever-changing.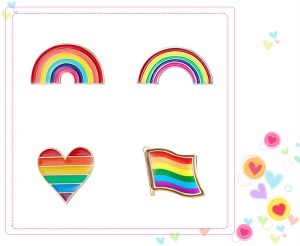 Our company, enamelpin.com also produces many high-quality rainbow-themed pins, welcome to visit our website to have a look.
---
The rainbow is a positive and healthy outlook on life and lifestyle. It is also the result of color balance. Balance can be developed between work and life, health and stress in this rapidly evolving society.
And the charming rainbow custom pins not only express people's love for the rainbow but also become an ornament for daily dress.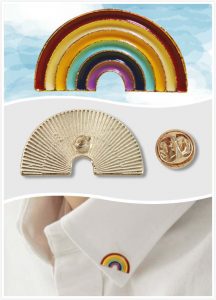 Resources:
https://www.dhresource.com/600×600/f2/albu/g10/M00/D5/63/rBVaWV2Ibs-AWp25AAE6YLZ1ULo374.jpg
https://media.karousell.com/media/photos/products/2019/02/02/avail_rainbow_enamel_pin_collection_1549112247_c3b0a7a30
https://ksr-ugc.imgix.net/assets/021/238/183/7a9971f7d7cabf1163170b016e8c438c_original.jpg?ixlib=rb-2.1.0&crop=faces&w=1552&h=873&fit=crop&v=1526470308&auto=format&frame=1&q=92&s=77cf31e9561b1d50f4eddcc84a7bb986
https://theblogimages.adobe.com/wp-content/uploads/2018/06/Love-is-Love-Pin-by-Worksbeautifully-e1528815235762.jpg