Cars have changed people's lifestyles and provided great convenience to human beings. In this era of demanding efficiency, the benefits of driving are enormous and we are no longer worried about the long distance. People express their love for cars in various ways. Car enamel pins are one of the most popular ways. There are many different types of cars, so the range of custom enamel pins is also very wide. You can choose different types of enamel pins according to your preferences.
Convertible Car Soft Enamel Pins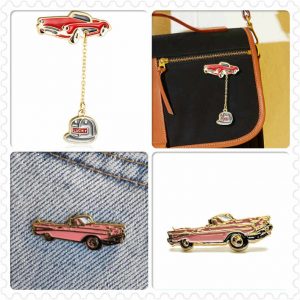 A convertible is a car with a foldable & openable roof. Most of the convertibles are two-door, and the four-door style is relatively rare.
From the picture, you can see two extremely superior convertible car soft enamel pins. The first red convertible car enamel pin even featured a baseball cap pendant for decoration. Such soft enamel pins are very suitable for young people. It's fascinating to use these cool enamel pins to embellish your backpack.
As for the second one, the pretty pink convertible car custom pins are processed with gold finish. The combination of gold and pink colors makes this convertible pin look cool and eye-catching. This kind of soft enamel pins is suitable for women of all ages. You can attach these stylish pins to your denim jacket, hat and more.
Ice Cream Car Enamel Lapel Pins
Ice cream is made from water, milk, milk powder, butter, sugar, etc. Almost everyone is wild about ice cream. Imagine a hot summer day, when you are having fun with your family in the park or at the beach, is it exciting to see a cute ice cream truck?
Have you decided what flavor you want to choose? I believe that you and your child will love this kind of special enamel lapel pins. The color of these ice cream car enamel pins is bright and the shape is so cute. Look carefully at the first ice cream car pin and you will find that the pink glitter is added to its surface, which is even more fascinating.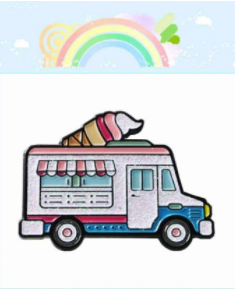 Police Car Enamel Pins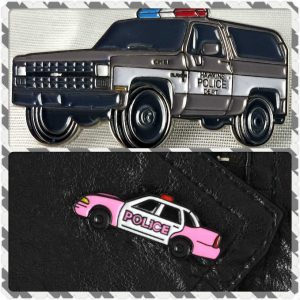 The police are great people who safeguard the security of the country and citizens. A police car is a vehicle used by the police to perform emergency duties.
In order to express respect and gratitude to the police, the police station or anyone can customize a unique police pin to present to the police as a gift.
The police car custom soft enamel lapel pins are made of high-quality materials at an affordable price.
Besides, the car custom pins are easy to carry. You can attach them to your leather, work clothes or hats.
Firefighter Car Custom Enamel Pins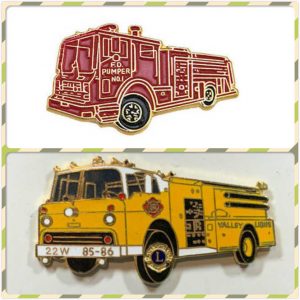 A fire engine is a vehicle used by a fire department for firefighting. Most national fire departments also use it for other emergency rescue purposes.
Fire engines can transport firefighters to the scene of the disaster and provide a variety of tools for their disaster relief missions. Fire engines in most areas are red, but some are yellow.
Customized such fire engine pins can be given as gifts to those excellent firefighters. At the same time, hard enamel pins can also be distributed to ordinary people. Wearing such a pin can always remind people to pay attention to the fire safety issue.
Racing Car Custom Enamel Pins
A racing car, as the name suggests, means that the car races in a defined closed field. It can be divided into drift race, formula race, sedan race, sports car race, GT endurance race, short track rally, field cross-country race, linear race and so on. The origin of the car has been more than 100 years old.
There are many crazed fans in the world who love racing. It is a good idea to wear a custom pin to watch your favorite racing competition. Sponsors of racing events can print their brand logo on racing car pins. Therefore, the pins can play a marketing role to promote brand influence.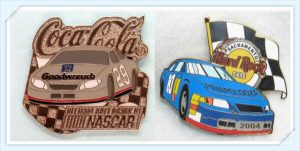 ---
There are numerous car custom enamel pin types beyond your imagination at Enamelpins.com.  If you are interested in any enamel pins, please feel free to visit our website to pick your favorite pin style.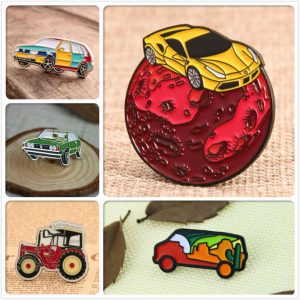 Resources:
https://cdn.shopify.com/s/files/1/0072/6352/products/BELAIR_grande.jpg?v=1467155927
https://www.dhgate.com/product/pinksee-2019-new-creative-enamel-cartoon/485818570.html
https://www.alibaba.com/product-detail/Custom-Designs-Ice-Cream-Car-Kunshan_60802280940.html?spm=a2700.7724857.normalList.92.75c76e53rpSZPq
https://www.alibaba.com/product-detail/Free-sample-custom-soft-enamel-car_60416955226.html?spm=a2700.7724857.normalList.269.75c76e53rpSZPq
https://www.hobbydb.com/marketplaces/hobbydb/catalog_items/pinapalooza-race-car-10
https://www.ebay.com/itm/KEVIN-HARVICK-29-NASCAR-COCA-COLA-RACING-CAR-PIN-SALE-/171865101077
https://i.ebayimg.com/images/g/pEUAAOSwhtddhUSy/s-l500.jpg
https://www.aliexpress.com/item/32942920954.html
https://i.pinimg.com/originals/34/c2/6e/34c26e4755e5d8cecdb08226cd6c78b0.jpg
https://lh3.googleusercontent.com/XhQC1kAnnQkTN3UvWz3oGc1tdKr9hKNCq1FVMGchpFpFLIWJ4JRggdZWCYsMMrdyvbYg=s128